About The Program
Singapore—with its blend of eastern and western traditions—provides a global experience in an ultramodern and tropical setting. Its combination of cultural experiences, languages, foods, iconic sites, and aromatic scents provide a stimulating place to study and live. Pristine streets, modern architecture, and a mix of Chinese, Malay, Indian, and Western cultures add to its attraction. In this intensive five-week program, deepen your understanding of the richness and complexity of Southeast Asia. Coursework introduces the cosmopolitan hub of Singapore and  takes learning beyond the classroom with local outings. Field trips feature travel to another Asian country, which may include Taiwan, Japan, Korea, India, or Indonesia. 
Where you'll study
The National University of Singapore (NUS) was founded by a determined group of entrepreneurs who wanted to serve the needs of their local community. It started as a medical school with just 23 students. Today, more than one hundred years later, it continues to be in service of country and society. NUS researchers partner with industry and government to discover solutions to improve life in Asia and the world. Projects cover a range of themes including energy, environmental and urban sustainability, treatment and prevention of diseases, active aging, advanced materials, risk management, and resilience of financial systems.
NUS has three campuses, and you'll take classes at the Kent Ridge campus. Strategically integrated with the Kent Ridge campus is the ultra-modern UTown, one of the latest green building projects undertaken by NUS. Built around existing trees, UTown incorporates teaching facilities, residential spaces, and study clusters. The town green is a wide lawn where you can picnic, play sports, and enjoy concerts under the stars at night. UTown distinguishes the university by creating a lively social, intellectual, and cultural environment.
Founded: 1905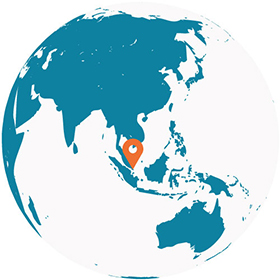 Explore Singapore
Life in Singapore