About The Program
Thailand is known for its tropical beaches, ancient ruins, and shimmering temples. Add delicious street food and cheap public transportation, and Bangkok is a college dream. If you're interested in getting experience in pre-medicine, nursing, or public health, this program is for you. You'll interact on a personal level with people in need of assistance, meet individuals providing NGO services, and discover new potential for your post-graduation plans. After a prep course on Thai and Burmese language and culture, embark on a series of field excursions. Head to Thai-Burma border communities to shadow medical service providers and observe firsthand the public health challenges facing the local population.
Where you'll study
Coursework for the first few weeks is on the Thammasat University Tha Prachan campus. The Tha Prachan campus is surrounded by many of Thailand's most famous landmarks. When you're not in class, you can continue your cultural education visiting nearby sites such as the Grand Palace, the Temple of the Emerald Buddha, the Wat Mahathat royal temple of Bangkok, or Thailand's oldest university for Buddhist monks.
During the fieldwork portion of your program, you'll stay in a rural village near the Thai/Myanmar border. Field activities include hiking, climbing in rugged terrain, and other physical activities in tropical weather. Rugged living and travel conditions offer a chance to test your physical and mental stamina. Within the course, you'll participate in briefings at the Mae Tao Clinic and then work with a local organization. Surrounded by farmland, the Mae Tao Clinic is known as the miracle clinic for its maternal health practices and service to local women and children.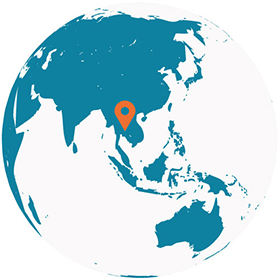 Explore Thailand
Life in Bangkok