About The Program
Take courses in your major with Chilean students at either of Chile's top two universities. Gain fluency in Spanish as you immerse in Chilean culture starting with a three-week language course and multiple themed excursions. The Schools of Engineering at both universities rank among the highest in Latin America. Internships and faculty-directed research kickstart your career or graduate school application. The climate is similar to California, ideal for studying environmental or agricultural sciences. Spend weekends surfing the blue-gray waves of Pichilemu and ski the Andes in air so clean you can see for miles.
Where you'll study
Pontifical Catholic University of Chile
The Pontifical Catholic University of Chile, known simply as La Católica, is always ranked among Chile's top two or three universities. It is spread across four campuses in Santiago with convenient access to subway stops. La Católica, an open-minded institution with an active student body, does not require religion to attend. With a unified central administration, La Católica functions much like a US university with 16 facultades (roughly equivalent to a college or school). Studying here, in the heart of Santiago, you can build your own study plan to complement your major. In the classrooms, a variety of unique learning experiences await you. Small class sizes (some cap at 30 students) and instructors who encourage dialog make for dynamic classes rather than older-style lectures. In addition, a strong student movement in social causes makes it easy to find and join community service projects.
University of Chile
Most Chilean thought leaders—including a former president—are alumni of the University of Chile. Serving all majors, this top research institution allows you to craft your own course schedule. The university has five campuses and many interdisciplinary centers spread throughout Santiago and the country. Using the city of Santiago as an extended campus, research can take you from the towering Andes mountains to deep green forests and turquoise lakes. With a budding high-tech industry and sustainability culture, Santiago also offers STEM majors the perfect match in the University of Chile. It teaches the use of scientific method to generate ideas that will solve critical national issues like childhood malnutrition, natural resource management, and engineering for earthquakes. Surrounding cultural venues like museums, theaters, and sports centers complement the immersive education you'll receive in class.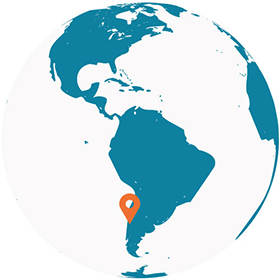 Explore Chile
Life in Santiago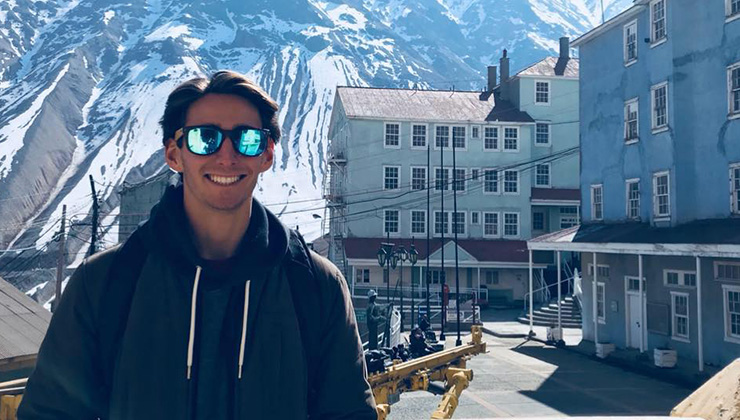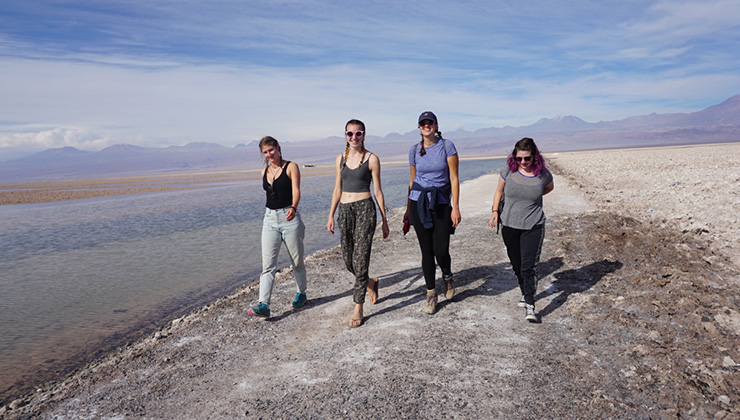 TRIPS AND ACTIVITIES
The study center arranges field trips and activities to introduce the local culture and special features of your host country. There may be other optional excursions, which you can explore after arrival.
Study abroad was a really good learning experience. I came out of it a much more confident person. I felt more adult, more grown up. I learned a lot about myself and other cultures, languages, and people. I made a lot of friends and got to travel to some of the most beautiful places on Earth.
Kirsten Cook
UC Santa Barbara
Environmental Studies
Chile
Standing in front of a class and teaching in Spanish for an hour was a great way to improve my language level and increase my confidence. I also gained more clarity on the roles and responsibilities of a teacher. To experience the dynamics of a classroom was a goal I was able to achieve through my internship abroad.
Tatum Sandvigen
UC Santa Barbara
Environmental Studies
Chile
I came back to Chile because I fell in love with the culture, language, and landscape. I study geology and Chile is really interesting due to the tectonic setting. I'm excited to be back and beginning my master's research in the Andes mountains.
Abby Jackson-Gain
UC Berkeley
Geology
Chile