About The Program
Expand your knowledge of evolving green technologies in Munich, an exciting center for sustainability science and business. At the Munich University of Applied Sciences, join a project team in lab simulations, case-based learning, and hands-on practice. Ideal for engineering majors, the program begins with a weeklong German language course and cultural study. You then take two engineering courses—exciting options include Smart Vehicles and Sustainable Entrepreneurship. In a city that blends high tech with an old-world vibe, you will get to discover both. Field trips will take you to the global headquarters of companies like BMW in addition to an ornate Bavarian palace based on France's Versailles. 
Where you'll study
The combination of a young university and a faculty with strong business ties inspires the kind of entrepreneurial thinking that can solve global issues. Munich University of Applied Sciences makes sure you get a practical understanding of your field and relevant job experience before you graduate. The university applies public agencies for research and development projects that support students with a strong education. The faculty generally have both academic and business qualifications, a fact that manifests in a wide variety of collaborative projects and internship opportunities with local businesses and firms. Faculty place special emphasis on sustainable development projects and the promotion of business startups in collaboration with the Strascheg Center for Entrepreneurship.
One of the largest universities in Germany, you will take classes at the Lothstraße campus near the city center and Munich's central station, Hauptbahnhof.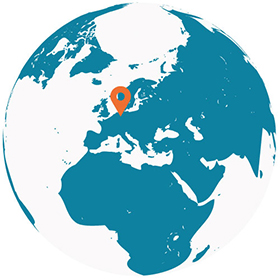 Explore Germany