About The Program
Live and learn in extraordinary Madrid and Rome. This interactive program appeals to a range of majors as it examines political and cultural movements, and how they are making a global impact. Spend five weeks at each location, taking classes that introduce the culture and landscape of each city. The rich curriculum integrates educational tours and visits to museums, archaeological sites, theaters, and religious centers. You'll also get an intro to Spanish and Italian language. Outside of the classroom, tempt your taste buds with cooking classes and build your conversation skills to trilingual levels at language exchanges.
Where you'll study
UC Center Madrid
The UC Center Madrid is a hub for instruction, advising, and activities for multiple UCEAP programs in Madrid. It is located in Chamberí, a traditional Castilian neighborhood in the center of the city. The nearby 19th-century plaza and local market keep alive the Madrileño style of slow, relaxed living. You won't see many tourists here. The locals are a combination of international students, people who have always lived here and would never leave, and young professionals who fell in love with the area and stayed longer than they intended. It's the kind of area where locals will make an extra effort to get to know you. While the neighborhood is traditional, the UC Center Madrid offers modern classroom spaces, a computer lab, two multi-purpose study rooms for cultural activities, as well as ample common space to work on group projects and assignments. 
UC Center Rome
The UC Center in Rome is located in the historic heart of the city in the Palazzo Banco di Santo Spirito. It is one of the most beautiful and beloved piazzas and a short walk from the Piazza Navona, one of the most outstanding squares featuring Bernini's Fountain of Rivers at its center. The center serves as your home base for onsite lectures, language instruction, and meet-ups for guided tours. Within the center, you'll find all the resources and support you need during your time in Italy. The resource desk is open for questions, program information, and travel advice. Relax in the comfortable lounges and catch up on email or chat with others on your program. Find your print news in the library, and when the beauty and art of the city inspires your inner artist, the studio space offers a place where you can be creative.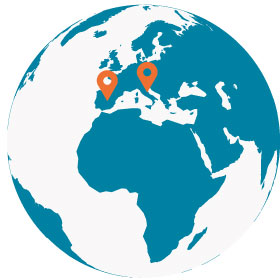 Explore Italy
Explore Spain