About The Program
Open the door to unexplored cultural riches in Buenos Aires brought here from Asia and beyond. Through the lens of history, see how Asian immigrant communities enriched the landscape of the region. In examining its Asian heritage, learn how ethnic ties, economies, and politics have shaped Argentina's sense of identity. Works of local artists and authors illustrate issues of immigration and globalization. Discover the Argentine panoramic Iguazú Falls, a stair step curtain of water along the Brazil border. Cooking and tango lessons and local markets add sizzle to this immersive experience.
Where you'll study
University of Buenos Aires
The University of Buenos Aires (UBA) is one of the premier institutions on the continent with a specialization in Asian Studies. As a public institution, it is a regional hub for education and research in every field, including Asian, Ethnic and Latin American Studies. With no central campus, UBA is spread across the city but always easily accessible by public transit. The university's cultural center, Centro Cultural Rojas, is an artistic program created as an extension into the community. Offering affordable shows and events, the center is located in the Balvanera borough and houses departments of Performing Arts, Visual Arts, New Technologies, and special programs such as Critical Thinking and Sustainable Culture. Locals, tourists, and students visit the university's network of museums year-round. Be sure to see the Parque de la Memoria, a riverfront urban park commemorating Argentina's history.
You'll be taking courses through UBA's Facultad de Ciencias Sociales, well known in Latin America for its diverse and politically engaged student body. Your UBA professors have trained in economics, sociology, and ethnic studies, and are specialists on Asia. UCEAP has worked with these professors to create this amazing program.
Expanish Center
Expanish is a modern and welcoming international language school in Buenos Aires, housed in a renovated building filled with natural light and inviting décor. There are 16 classrooms with multimedia equipment, two student lounges, a cafeteria area, and WiFi. Expanish staff will meet you on arrival, organize social outings, and provide you with support during your entire stay in Buenos Aires. Before and after your starter Spanish language class, you're welcome to socialize, pour a cup of coffee and do some homework, or use the computers. Just steps from the center is the subway line, businesses, cafés, parks, and city landmarks like the Casa Rosada, Puerto Madero, and the Obelisk.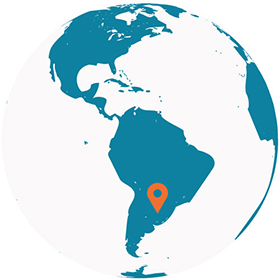 Explore Argentina
Life in Buenos Aires