About The Program
Futuristic Singapore is a dream location for this high-level STEM internship. Autonomous taxis cruise the streets, solar-celled super trees grow plants for food, and a glass biome houses a cloud forest. The Agency for Science, Technology and Research (A*STAR) is part of what makes Singapore a global innovation hub. In this program, pursue a passion for research and answer the most pressing questions in your field. Working full-time with scientists and engineers, expand your research skills and contribute to a national project. A*STAR's centers, Fusionopolis and Biopolis, house state-of-the-art facilities and equipment, such as a 3-D visualization chamber. Outside the lab, a world of cultural adventures await.
Where you'll study
The award-winning Agency for Science, Technology, and Research (A*STAR) is playing an important role in developing talented leaders and making Singapore an international leader in STEM research. For over twenty years, A*STAR has promoted national science and technology planning and development in Singapore. Over 2,300 A*STAR scientists and researchers work at laboratories located throughout the city. Each A*STAR research unit has a particular focus geared towards producing meaningful outcomes and promoting collaboration between research and industry. Through research, A*STAR is improving outcomes in healthcare, urban living, and sustainability.
With headquarters located northwest of downtown Singapore in twin research hubs termed Biopolis and Fusionopolis, A*STAR provides an ideal environment for you to learn, live, work, and thrive. During your two months at A*STAR, you'll apply to intern at one of its 21 biomedical science, physical science, and engineering research institutes.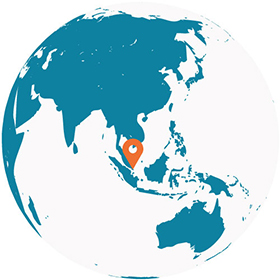 Explore Singapore