About The Program
Toronto is a business-minded and socially progressive city. It is also one of the most ethnically diverse cities in the world, making it ideal for valuable career training. Build intercultural communication, networking, and professional skills with up-and-coming social entrepreneurs. Local organizations, incubators, and startups welcome interns in fields that include film and television, technology, engineering, business, communication, and finance. Grab lunch from an exotic food truck and after work, dive into Toronto's summer scene of cultural festivals, sports events, parks, and beaches.
Where you'll study
The CIEE office and classrooms are at the Centre for Social Innovation, a dynamic and collaborative space where visionary social entrepreneurs meet and share co-working space in the heart of downtown Toronto. Orientations, networking events, classes, and meetings with your internship supervisors are held at the Annex on Bathurst Street. Part community development and part social experiment, the Centre for Social Innovation hosts community summits, networking talks, and weekly crowdsourced communal lunches called Salad Club.
With over half of its residents born outside of Canada, Toronto offers the ideal opportunity to gain valuable multicultural workplace skills. Public transportation stops are on the same block, providing easy access to your internship location in the city. Nearby, you'll find The Randolph Center for the Arts, a landmark Gothic building hosting music, comedy, and theater productions. Grab lunch or dinner at one of the pizzerias, trattorias, or gelato shops in nearby Little Italy.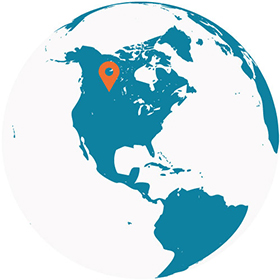 Explore Canada
Life in Toronto