About Maastricht
Birthplace of the European Union, Maastricht connects cultures and history within its compact and cosmopolitan borders. Residents are just as likely to speak German or French as they are to speak Dutch. Large numbers of international students absorb Dutch culture as they bring parts of their own culture to the picturesque city. Along the Meuse River, a blend of 17th-century mansions and cutting-edge architecture makes for a beautifully eclectic cityscape. There's a lively bohemian side with boutiques and art galleries balanced by the inviting city center with large squares, traditional European facades, and city walls. It's easy to find the charm in Maastricht cycling around the city or stopping for a coffee in one of the many cafés.
What to do in Maastricht
Maastricht Underground: Tour Maastricht's maze of underground art caves and unlock its history from Napoleonic times to Nazi art caches to World War II shelters and escapes.
Vrijthof square: Make the pleasant square the base of your explorations around the city. Visit medieval churches before people-watching at one of the many cafés.
Meuse River cruise: Discover Maastricht and its landmarks from the river as you enjoy aromatic coffee and flaky pastries.
City Park: Sunbathe one day, follow the remains of the city walls the next, and take a weekend day to pay respects to one of the Three Musketeers.
Wyck district: Find the heart of Maastricht in the neighborhood with vintage shops, stately mansions, and cafés next to the Meuse River.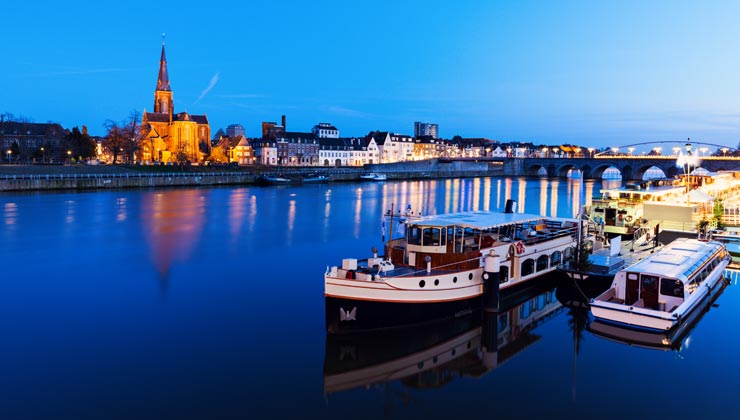 I deliberately chose the shortest program I could find and ended up feeling like it wasn't long enough! Our classes followed problem-based learning which meant doing the reading prior so we could participate in the discussions. Initially, the idea of speaking in class was jarring to me, but I learned that the class may benefit from what I share just as I would from what my classmates share.
Kimberly Kapelson
UC Santa Cruz
Psychology
Netherlands
---
We have
5

Programs that match your search