About The Program
This is a rare opportunity to acquire practical skills as a bilingual health professional through 6 weeks of courses in semi-urban Santiago, a weeklong clinical rotation in a rural area and another rotation in urban Santo Domingo. Learn medical terminology in Spanish and how to interact with patients and medical staff in clinical settings. Leave with a unique understanding of health management, preventive medicine programs and current development issues facing underserved areas in this country.
Where you'll study
The Pontificia Universidad Católica Madre y Maestra (PUCMM) is a private, nonprofit institution focused on scientific research. It teaches students to respond to social problems with solutions informed by ethical and humanistic principles. It has academic departments in social sciences, science and humanities, engineering, and health sciences on multiple campuses. While small, PUCCM offers the academic resources, support services, and facilities of a top-tier Latin American university. The campus preserves the topography and original beauty of the landscape with its colorful gardens and shaded walkways.
During the eight weeks of this program, you'll spend most of your time taking courses at the Santiago campus and becoming familiar with the surrounding local community. Built into the program is a weeklong clinical rotation in a semi-rural area as well as an extended site visit in the capital, Santo Domingo.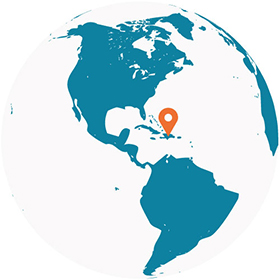 Explore the Dominican Republic
Life in Santiago