About The Program
This summer program brings Indian and international students together to explore the politics, economics, history and sociology of India. Summer in New Delhi is a photographer's dream as the boulevards around India Gate come to life. Spend four weeks on campus and two weeks in community service in rural Rajasthan. Program trips to the awe-inspiring Taj Mahal and the Pink City of Jaipur add context to classroom study. 
Where you'll study
The International Summer School (ISS) brings together students from all over the world each summer in New Delhi, the nation's largest city and capital. The ISS, a banner program of the government's Incredible India campaign, aims to promote international goodwill and cross-cultural dialog among promising college students. It's an ideal setting for developing your leadership abilities and career potential. For the first four weeks of the academic component, you'll be attending class at either the convention center at Jawaharlal Nehru University or the Nehru Memorial Museum and Library at the historic Teen Murti House. The library was the official residence of India's first Prime Minister, and its archives contain the bulk of Mahatma Gandhi's writings. The location is in the heart of New Delhi in Chanakyapuri where overseas embassies and High Commissions are located as well as the President's Estate.
During the final two weeks of the program, a community service project will take you to any number of rural educational settings for fieldwork. In the past, this service learning component of the program has been organized in partnership with reputed entities such as WWF, an organization working in the field of wilderness preservation in Bharatpur, Rajasthan; the Kalinga Institute of Social Sciences, an educational institution for tribal societies, located in Bhubaneswar, Odisha; and Ritinjali, a nonprofit committed to the cause of education for all, located in Gurgaon, Haryana. The exact project and location for the service learning component will depend on your interests and project availability for that summer.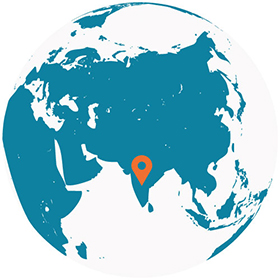 Explore India
Life in New Delhi